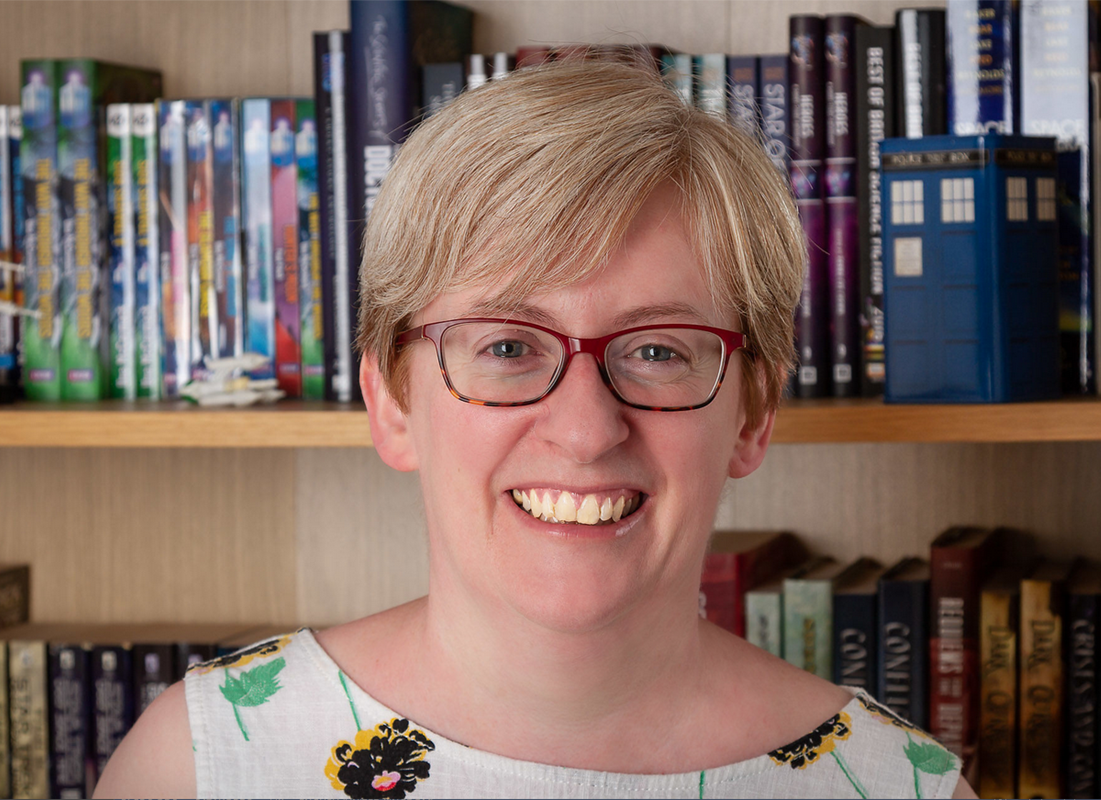 Dr Una McCormack is a New York Times and USA Today bestselling author of over two dozen science fiction novels. She is passionate about women's writing, science fiction, and helping people find their words and voices. Her 2020 release, Star Trek: Picard novel The Last Best Hope, became a USA Today bestseller.
Learn about her books, other works, and how you can work with Una as your writing mentor for stories or novels.
SCIENCE FICTION
Una is well known for her TV tie-in work. She has published more than a dozen novels set in franchises such as Doctor Who, Star Trek: Deep Space Nine, and Star Trek: Discovery. Her audio work with Big Finish has been set in licensed properties such as Doctor Who and Blake's 7.
Her shorter-form science fiction has appeared in anthologies edited by Gardner Dozois and Ian Whates. Her story 'Taking Flight' (2017) was shortlisted for the BSFA award for short fiction, and her novel Star Trek: Discovery – The Way to the Stars for a Dragon Con Award. In 2017, she was a judge for the Arthur C Clarke Award. Una's most recent original novella, The Undefeated, was published by Tor in 2019.
TEACHING AND ACADEMIC WORK
In a previous life as a university lecturer, Una taught creative writing for many years at undergraduate and postgraduate level. She also supervised creative writing PhDs. She continues to mentor writers, particularly helping people working on their first novel-length project.
Her academic work includes a monograph on the Doctor Who story 'The Curse of Fenric' (Obverse Books, 2018), a study of women's reparative readings of Tolkien (in Perilous and Fair: Women in the Life and Works of JRR Tolkien, ed. Janet Brennan Croft and Leslie Donovan, Mythopoeic Press, 2013), and co-editing a forthcoming volume of essays on Lois McMaster Bujold, Biology and Manners: the Worlds and Works of Lois McMaster Bujold (Liverpool University Press, 2020, with Regina Yung Lee).
SPEAKING AND AUDIO APPEARANCES
Una often features in podcasts and on national and local radio, and has worked with audiobooks. In 2020 she dove into online conventions and virtual appearances. You can learn more about her interviews, Radio BBC appearances, podcasts, and online appearances here. She is available as a speaker about science fiction, women's writing, Ursula Le Guin, Doctor Who, and many other topics. She has guested on the Backlisted podcast, discussing diverse authors such as Anita Brookner, Georgette Heyer, and JRR Tolkien.
She lives in Cambridge with her partner Matthew, her daughter Verity, several Daleks, and thousands of books.